About us and our resources
Instructor qualifications
Offshore Instructor (Sailing Instructors' Association in Finland)
Navigation Instructor (Finnish Navigation Association)
RYA Shorebased Instructor (Royal Yachting Association)
Sailing &  Navigation exams and certificates of competence
RYA/MCA Yachtmaster Offshore Certificate
Offshore Skipper Certificate (Sailing Instructors' Association in Finland)
Inshore, Coastal and Celestial Navigation Exams (Finnish Navigation Association)
RYA/MCA Yachmaster Ocean Shorebased Certificate
5 Day Advanced Celestial Navigation Course by Stokey Woodall / I.O.S
ICC, International Certificate for Operators of Pleasure Craft (Trafi)
Certificate for Operators of Charter Boats (Trafi)
Tarja and Mikko have sailed together almost 30 years in many locations, including Baltic Sea, Pacific North West Canada, Mediterranean, Atlantic, UK, English Channel, and Channel Islands.
Mikko has been pioneering practical sailing courses and shorebased navigation courses for English speaking audience in Finland since 2011 first as a freelance instructor and now under Helsinki Yachting.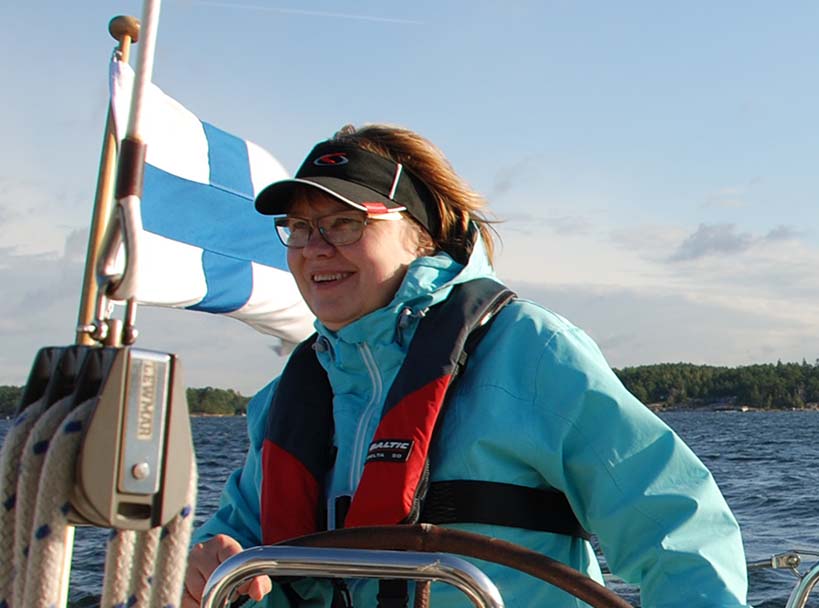 Instructor qualifications
Navigation Instructor (Finnish Navigation Association)
Sailing &  Navigation exams & certificates of competence
Coastal Skipper Certificate (Sailing Instructors' Association in in Finland)
Inshore and Coastal Navigation Exams (Finnish Navigation Association)
5 Day Advanced Celestial Navigation Course by Stokey Woodall / I.O.S
ICC, International Certificate for Operators of Pleasure Craft (Trafi)
Our Partners
We strive to develop new and improved training services. To achieve this, we work together with boating associations, sailing schools, charter operators, a variety of service providers, and individuals.
Background company
Helsinki Yachting is a registered trade name of SeriMeri Oy, a limited liability company founded and owned by Mikko and Tarja. Name SeriMeri implies that we have two lines of activity: Sailing School ('Meri' for Sea in Finnish) and Art & Design Handicrafts ('Seri' for serigrafia). The Business ID of SeriMeri Oy is 2735070-5.
Data Protection Notice
The General Data Protection Regulation enters into force on 25 May 2018. We respect the privacy of our customers. Please see our data protection notice here.
Training boats
Our main training boat in the Baltic Sea is S/Y ALOHA, a Dutch built Contest 35S. The boat is constructed to category ocean and she is comfortable at sea. The inventory includes, among other things:
New sails from 2015; single line, three-point reefing.
Integrated instruments: log, wind, depth sounder, autopilot, GPS
Chart plotter, radar
VHF with DSC, GPS, AIS
Tools for traditional chart work and position fixing
Sextant, almanac, sight reduction tables, calculation forms for celestial navigation
Our facilities are located conveniently about two nautical miles from downtown Helsinki
The home base of our training yacht S/Y ALOHA is the sailing club HSK, Helsingfors Segelklubb. The Address is Vattuniemen Puistotie 1, 00210 Helsinki. Seaside restaurant Blue Peter serves as a nice meeting point.
The classroom is located in a nearby office building. The address is Heikkiläntie 7, 00210 Helsinki.
Both facilities are located in an island called Lauttasaari. The area has a high concentration of services for yachting people.